About Lesley Powell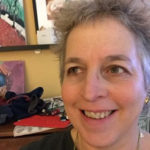 LESLEY POWELL, the founder and director of Movements Afoot, has been a private fitness trainer since 1986. She received her CMA/Certification as a Movement Analyst from the Laban/Bartenieff institute,...More
Other Workshops by Lesley Powell
Student Comments
" I wrote 5 pages of notes, which is great as it was packed with information. It was great to help to fill some gaps and very helpful. Thank you. "
Vanessa C
" The class was very informative and easy to follow. "
Donna H
" Wonderful workshop! Clear, didactic and very useful! "
Roberta B
" Wonderful information. Great cuing and helpful tips. Love the open chain leg extension when she was seated on the chair. I question some of the rotation cuing in relation to meniscus tears post surgery and will message you about that. Thank you for this video. "
Brenda A
" What I loved most about the workshop was the interaction between the skeleton, the diagrams and the live models! It gave me a cohesive understanding of how everything integrates. I will be taking more of these workshops. Lesley Powell is a wonderful teacher! "
Marie S
" A wealth of information! "
CHRISTINA J
" Great information on hip muscles as postural muscles. I appreciate the comparisons between efficient movement (good) and inefficient (bad) movement. Lots of great, client accessible exercises to bring to my clients. "
Linda Z
" Loved this! So helpful to see one concept taken through multiple different exercises. "
Jennifer B
" I enjoyed the various cues and imagery to help the client connect deeper to the pelvic floor. "
MICHELE R
" I found this workshop very informative and clear. The demonstrations using imagery were very helpful "
Lindsey C
" Great information on the knee "
NAOMI F
" Very good workshop! "
Marcus S
" Great workshop! "
Marcus S
" Great information that i will use in all my classes and privates... "
Darlene K
" Great workshop. Very informative. Looking forward to practicing the moves and using them for my client. I have a hip replacement and the lateral and posterior hip are weak areas of the leg. "
LeVonne W
" Very useful explanations and applications to classic equipment repertoire "
Maria C
" A lot of information packed into an hour - very useful and informative personally, as well as for many of my clients! "
michele W
" It was interesting to examine the relationship between the ASIS, sitz bones and sacrum in movement. "
Christina B
" The course presentation and content were a perfect blend of technical and example. "
Audrey P
" This workshop was very informative. I like how Lesley breaks down the mechanics of the shoulder girdle and provides exercises to isolate each muscle. I had to watch it more than once to absorb everything. Lesley is very detailed and specific in her cuing and corrections, and it has given me a lot to think about in working with my own clients. I am looking forward to putting this workshop to good use with clients experiencing shoulder dysfunction. "
Parker S
" Great workshop and helpful targeted tips. I look forward to incorporating them into my own practice and with clients. "
amy l
" A great video to learn the placement of the shoulder blades - the material Lesley covered , the use of her language, and anatomy references are excellent . "
Amy S
" As always, Lesley, a lot of great information. Thank you so much for your wisdom! "
Phyllis G M
" Very clear insights into compensatory movements of the low back and hip flexors. Thank you. "
Holly K
" Very informative workshop. I am also a physical therapist assistant and work in outpatient rehab clinics; therefore, this information will assist me with my patients as well as my pilates clients. "
Erica P
" A ton of interesting details! "
Malgorzata P
" Very interesting workshop. I love how Lesley showed us how the mechanics of the knee works and how to improve some patterns. "
cherhine s
" Wonderful workshop. Great ideas to engage and strengthen the serratus! "
valerie p
" Good workshop. The video really allows us to see the movement that is happening. Thank you. "
Jessica R