Workshop
Free member
Forever member Forever Members enjoy early access, special pricing, and no expiration dates! If you'd like to take advantage of this special price, please add Forever Access here and then come back to this page to make your purchase. (If you have Forever Access - make sure you are logged in to make this pricing available.)

(Must be logged in for discount)

NPCP CECs
Kissable Available Neck

$39.00 USD

Register Now

$29.00 USD

Forever Members enjoy early access, special pricing, and no expiration dates! If you'd like to take advantage of this special price, please add Forever Access here and then come back to this page to make your purchase. (If you have Forever Access - make sure you are logged in to make this pricing available.)

NPCP CECS

2 until 04/28/2022

Previously PMA
*NPCP CECs are only available until the date listed. Be sure to complete the quiz and download your certificate by this deadline.
*NPCP accepts a maximum of 12 online CECs toward their bienial CEC requirement. Details.
Description
Many of our clients come in complaining of neck pain which is exacerbated by our daily routines that include working at computers, driving, and sitting - all in a flexed spine and extended neck!
This workshop is about how to create better function in the neck and thorax, how posture informs this function and an in-depth review of the anatomy of the neck. With practical and Pilates-based applications, Lesley Powell demonstrates a variety of strategies that can be employed to bring more awareness and ease to the upper body.
Objectives
Understand the anatomy of the neck
Observe how the cervical and thoracic spine move
Analyze how posture affects the alignment of the neck
Improve the function of the head and neck
Applications to the Pilates Repertory
Concepts & Techniques
How improving neck function informs better posture
Anatomy of the neck and spine
How to wake up the function of the head and spine muscles
Applications to the Pilates repertory and daily function
Props & Equipment Used
Balls
Reformer
Small Props
Trap/Cad
Workshop Level
Advanced
Beginner
Intermediate
Duration & Access
This workshop is  approximately 1.6 hours  long and you have 30 days of access
(No expiration for Forever Access Members)
About Lesley Powell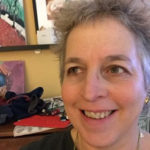 LESLEY POWELL, the founder and director of Movements Afoot, has been a private fitness trainer since 1986. She received her CMA/Certification as a Movement Analyst from the Laban/Bartenieff institute,...
Find Out More
Other Workshops by Lesley Powell
Student Comments
" You always think of the neck as an attachment to the head. This helped me with the spinal connection with the ribs and the neck "
Judi D
Featured Student Feedback
Carey A
Thank you. This was very informative and helpful. Some of the material was advanced for my clients, but is a good target for the future. I did learn many practical applications for my clients of all levels. It may have been helpful to have a client with less subtle areas for correction to represent clients who are beginners.
Marjorie G
very informative
Judi D
You always think of the neck as an attachment to the head. This helped me with the spinal connection with the ribs and the neck
TILSIM O
Very good thank you
Sara A
Great info - was a little slow but still liked the class