About Madeline Black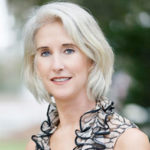 Madeline Black has distinguished herself as an international leader in movement and exercise education. She is known as the "teacher's teacher" for over 25 years. Madeline draws from her vas...More
Other Workshops by Madeline Black
Student Comments
" Great workshop, lots of god information and good addition to "Centered"... "
Elya K
" Thank you for sharing the knowledge with us. This workshop helps me understand more about Psoas and the core muscles. And I have a deeper understanding of the exercises I have learnt in the Centered immersive course. Thanks! "
Zhenyu Z
" As always Madeline Black's workshop was very detailed and informative. Great sequence of movements leading up into the full body exercises feeling the support from the lower ribs. Fantastic. "
Salome R
" It was an awesome workshop, I learned a lot. Thank you! "
Kayla P
" This workshop has given me so much to think about. Madeline\'s explanations are wonderfully clear and she has given me some great practical advice to use on my clients. "
STEPHANIE H
" This workshop was great. It reinforced concepts I already knew and brought clarity to others. "
Stephanie L
" Madeline is an amazing teacher! Whatever she teaches is absolute gold. "
Tonya A
" Such a great video. Loved several parts- tail wagging, bridging with rotation, pelvic clock . Explanation of movement was super . Thank you! "
Vicky M
" Very helpful in determining postural imbalances... "
Shelly S
" Good information about the Psoas muscle and integration as a core muscle. Descriptive ways for cues for several exercises. "
Marna W
" *Fantastic* posture pencil tip. Lots of great information about how foot and hand alignment effect all of the Pilates work. Personally, I found the cues for foot position on supine mat work specifically helpful, since I had a better initial understanding of weight bearing going into this workshop. Great, specific cues very well explained. Thanks! "
Ilana K
" Very informative, useful for many clients of all ages and abilities. "
Marideth S
" Great information! "
Juliana T
" Excellent course that I keep coming back to! "
maria r
" Very detailed and very well explained. Wonderful work! "
Deanna N
" extremely informative! "
Kelly H
" I found the class very interesting. I enjoy taking classes from Madeline. I have taken other classes from her and she does do some of the sameexercises which does help me learn them the more I see them. "
jackie G
" Great workshop; lots of good techniques to help stabilize the TL junction! "
Kari S
" I enjoyed the workshop. It is interested to think about working distal to proximal. Thank you. "
Elizabeth H
" as always the descriptions and the way to dive deeper into the work, into the body is enriching! thanks a lot! "
Edith D
" I really enjoy the precision an all the great cuing Madeline offers in her workshops. "
Salome R
" This workshop is a wonderful compliment to Madeline\'s book Centered. It will take several viewings to benefit from all there is to offer in these sessions. Thank you! "
Penny M
" Great workshop Madeline! Wish I could take a private with you. I teach so much of these concepts already but got a lot of clarity on how to get my client into these positions better. Thank you! "
Karin T
" Lots to think about and lots to try by myself and with my clients. The anatomical images are very helpful to support the visual images and verbal cues in this video. "
michele W
" I found this workshop incredibly informative. Although, the movements are familiar, Madeline always finds a way of making movements happen in an effortless manner and explains clearly, using good direct cues. Please keep the workshops and great tips coming! "
Sheri N
" This workshop will make me look more closely at the TL junction, rotation progressing through the 4 regions of the thoracic spine and rib translation prior to rotation. It has already improved my teaching. "
Tracey M
" Wow! Great workshop for such a multi-layered subject! "
amy l
" This workshop was great! Lots of wonderful information and techniques. I'm a Pilates instructor and I have seen this issue in a number of my clients. I will definitely use what I learned in this workshop to help them achieve better alignment, breathing and core integration. "
Nadia T
" Loved the course! "
Ginger P
" This was a great session. My favorite thing is how you strung it all together in a progression; so much easier to apply it to my clients! "
Darlene K
" Very informative and helpful in understanding the mechanics as well as good cueing and beneficial and practical exercises "
Christina J
" Thorough and fascinating! "
karina b
" She is a very good instructor. I enjoyed seeing her cue the movements in real time with the model. "
Leighton R
" Very good workshop. I really appreciated! "
Marana De Moura N
" Perfect explanation from Madeline Black! "
sonia E
" I always learn great techniques from Madeline's workshops! "
Jennifer W