About Marie José Blom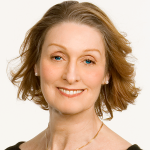 As Creator & President of SmartSpine™ Wellness System, Marie-José has more than twenty years of master teacher training to help get your back on track. Marie-José specializes in deep cor...More
Other Workshops by Marie José Blom
Student Comments
" I really appreciated how this course was broken up. Not coming from a background that included anatomical study, it made a lot of information feel very manageable. I absolutely loved the digitized diagrams. They greatly helped where some of the terminology went a little over my head. "
Emma G
" Loved the content and cannot wait to implement techniques into my practice. "
Mary S
" Great training! Thanks so much! "
Thea B
" Great and informative course. Was able to apply what I learned throughout this course while practicing pilates and while studying for my certification. Very easy to access and flow through. "
Gabriella V
" This course was incredibly informative. Definitely a lot of information and I broke up my sessions through out the week to not lose focus. "
Michelle B
" She is so knowledgeable and poise that the workshop is easy to follow and understand. Her cues and demonstrations are extremely helpful. Enjoyed it very much! "
Marta P
" Very informative group of sessions made easy to comprehend by demonstration through a model. "
Jessica P
" Lovely :) "
Margarita C
" I enjoyed it and learned a lot! I knew the concept of core stability was less and less used, but this corse introduced me to core ability and it was very helpful! "
Marcella O
" This course was awesome! I had to take it for educator training and it really helped me to understand how the body moves. "
Morgan H
" This is a superb seminar. Well thought out, organized and enlightening information. "
Jennifer S
" I always love MJ's teaching style and innovation. Thank you for offering this, fun things to play with! "
Stacy B
" Wow...so much careful detail in explanation. I wish I could study under you in person. Thank you for your time to share your years of experience. I learned so much! "
Deborah S
" Great Course!! I love Marie Jose! She is brilliant! "
Jamie S
" Brilliant every step of the way. Everything covered was necessary for the clear path to the core. "
Amanda W
" I am so glad I chose this workshop. I feel like my focus goes away from the deep cueing and slow focus. It absolutely needs to be the prerequisite to more advanced exercises or we've lost our base for which all motion and strength comes. "
Emily B