Pricing
Free member
Forever member Forever Members enjoy special pricing and no workshop expiration dates! If you'd like to take advantage of this special price, please add Forever Access here and then come back to this page to make your purchase. (If you have Forever Access - make sure you are logged in to make this pricing available.)
The Intuitive Anatomist

$89

$69

Forever Members enjoy special pricing and no workshop expiration dates! If you'd like to take advantage of this special price, please add Forever Access here and then come back to this page to make your purchase. (If you have Forever Access - make sure you are logged in to make this pricing available.)
(Please remember, the PMA accepts a maximum of 12 online CECs toward their bi-annual 16 CEC requirement. Details.)
Description
Welcome to an exploration into how to fine tune your intuitive teaching sense to "see/feel" disturbances in your client's movement force. This workshop is designed to illuminate what veteran teachers see when they teach clients, giving you a peephole into how their process works. You will learn to unite the intellectual anatomy knowledge you have already acquired, with the actual person in front of you! We will experiment with creative and artistic ways to unite the mental and intuitive planes to help your clients establish better baseline movement patterns. This results in cues that are more direct, personalized, and profound.
Objectives
Learn how to spot movement dysfunction.
See how these dysfunctions are linked to one another in different exercises.
Develop a more artistic side of teaching.
Fine tune your inner observer to help your clients on a deeper level.
Concepts & Techniques
Enhance observational abilities to the level of veteran teachers!
Honoring the map of function and dysfunction in people's bodies.
Learning to glean information from natural, uncued movement.
Props & Equipment Used
Reformer
Duration & Access
This workshop is  approximately 3.25 hours  long and you have 30 days of access
(No expiration for Forever Access Members)
About Casey Marie Herdt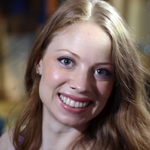 "If knowledge is power, then self knowledge is empowerment." Casey Herdt grew up in Tucson, Arizona where she excelled in many different sports and athletic activities. At a young age she becam...
Find Out More
Other Workshops by Casey Marie Herdt
Student Comments
Student Comments
Agnieszka Marczyk
Excellent.
Pam Johnson
Really enjoyed this! Loved the pen marker visuals! I would love to see a follow up with Casey working with one or more of the clients to see how she improves the alignment and movement issues uncovered in this workshop.
Regina Saladino
Casey Marie Herdt did an EXCELLENT JOB explaining all the biomechanics very clearly and concisely. Also, what I liked best is that she spoke....slowly and softly....that's what made it easier for me to comprehend!! Thank you Casey Marie!!! :)
randall weiss
a good start... I am hungry to learn WHAT to do next after observing the imbalances ... Casey discussed a lot of diagnoses and I would like to start to learn HOW she knows this and how she addresses these with individual clients.
Celia Elizabeth Arias Castellanos
I love this course....it gives you a new eye to review our client's bodies. Amazing the way it changes your look at the exercises. Thank you!
Lynda Johnson
I am working on my eye to see the subtleties of movement in my clients. The graphics in this workshop were very helpful to this end.
Howard Kessel
Interesting information and informative visuals.
Caitlin Hoffman
Great workshop! Of course, I want to know more specifics on what types of release work you find most beneficial for client\'s issues. However, i\'m sure that is handled in another workshop. I think the split screens caused a little confusion. I found myself looking at one but then you would comment at the other one. Perhaps focusing on one angle at a time would be better. I found that I had to rewind quite a bit to catch where your focus was.
Caitlin Hoffman
Really good! Would love to have more specifics included in how she would work with the issues---i.e. what types of release work she finds most beneficial for said issue(s). Perhaps that's another workshop altogether. :)