Workshop
Free member
Forever member Forever Members enjoy early access, special pricing, and no expiration dates! If you'd like to take advantage of this special price, please add Forever Access here and then come back to this page to make your purchase. (If you have Forever Access - make sure you are logged in to make this pricing available.)

(Must be logged in for discount)

NPCP CECs
Body Geometry

$59.00 USD

Register Now

$39.00 USD

Forever Members enjoy early access, special pricing, and no expiration dates! If you'd like to take advantage of this special price, please add Forever Access here and then come back to this page to make your purchase. (If you have Forever Access - make sure you are logged in to make this pricing available.)

NPCP CECS

3 until 03/31/2022

Previously PMA
*NPCP CECs are only available until the date listed. Be sure to complete the quiz and download your certificate by this deadline.
*NPCP accepts a maximum of 12 online CECs toward their bienial CEC requirement. Details.
Description
We often think of movement occurring through a series of levers, but what happens when we expand our awareness to looking at the structure of the body and how it moves as a series of shapes, in particular triangles?
In this workshop, Marcy Schafler breaks down movement through her concept of Body Geometry, demonstrating how many traditional Pilates exercises can be explored through this unique lens.
Using many creative visuals, Marcy illustrates how our eyes can be better trained to spot imbalances and/or cue more effectively. Dig deeper into exercises on the reformer, chair, and mat in this workshop designed to inform how you are looking at and communicating with clients.
Objectives
Use properties of geometry to view the body
Explore new ways of thinking about and cueing the body into movement
Gain a better understanding of how the body moves in space
Concepts & Techniques
How the arms and legs connect to the spine
Shoulder/scapula mechanics
Differentiating the pelvis from the femurs and the spine from the pelvis
Identifying triangles throughout the body from which we can stabilize or mobilize
Breaking down traditional Pilates exercises into movement 'families' that can be used to progress or regress a client
Duration & Access
This workshop is  approximately 2.3 hours  long and you have 30 days of access
(No expiration for Forever Access Members)
About Marcy Schafler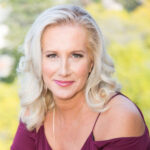 Marcy Schafler, owner of Mind Over Movement became a Pilates instructor at the suggestion of one of her first Pilates instructors. Growing up taking dance and gymnastics, motivated her to change her c...
Find Out More
Other Workshops by Marcy Schafler
Student Comments
This workshop is new, feedback coming soon...
Featured Student Feedback
Angela G
Thank you- very insightful.