About Ann McMillan MS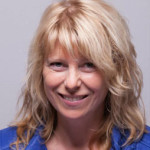 A true pioneer, Ann McMillan was the first instructor to bring Pilates to the province of Québec when she opened the Centre Pilates de Montréal in 1992. She discovered Pilates while pursuing a d...More
Other Workshops by Ann McMillan MS
Student Comments
" Another level of teaching....love, love! "
Tammy C
" Loved the workshop. Will definitely take more. "
Tori C
" This was fantastic! "
Darlene K
" What a lovely presence Ann has. It has been such a pleasure to explore her very civilized and very very effective approaches to symmetrical engagement of the "core" as well as the crossed chains. So often our methods are of the heavy-handed, take-no-prisoners variety. Ann's techniques definitely leave no prisoners on the field, but in such a subtle, fine-tuned way that you don't realize your eyeballs are sweating until you've finished the exercise. Thank you. So much. "
Maureen M
" Loved it! I have a few clients that will benefit from this work! "
Darlene K
" Great workshop Ann, thanks very much. Your explanation are always clear and the material fun and creative. I cannot wait to take another one! "
joelle s
" Loved it. So many new great variations to add to my teaching. Thankyou "
Pamella D A
" Great workshop! "
Maren Fritsche F