Workshop
Free member
Forever member Forever Members enjoy early access, special pricing, and no expiration dates! If you'd like to take advantage of this special price, please add Forever Access here and then come back to this page to make your purchase. (If you have Forever Access - make sure you are logged in to make this pricing available.)

(Must be logged in for discount)

NPCP CECs
Pilates Principles through an Embodied Lens

$59.00 USD

Register Now

$39.00 USD

Forever Members enjoy early access, special pricing, and no expiration dates! If you'd like to take advantage of this special price, please add Forever Access here and then come back to this page to make your purchase. (If you have Forever Access - make sure you are logged in to make this pricing available.)

NPCP CECS

3 until 03/02/2024

Previously PMA
*NPCP CECs are only available until the date listed. Be sure to complete the quiz and download your certificate by this deadline.
*NPCP accepts a maximum of 16 online CECs toward their bienial CEC requirement. Details.
Description
This online Pilates workshop by Randi Moore is designed to help you facilitate embodied exploration for your clients using the principles of Pilates through a somatic lens. By using the principles of centering, breath, flow, concentration, precision, and control, you'll gain the skills to hold space for yourself and your clients that will nurture a healthy, compassionate, and responsive relationship with the body. This workshop will teach you how to transform your Pilates teaching and help your clients increase awareness, connection, and growth.
Objectives
Revisit Pilates principles through an emodied lens
Witness a client with minimal Pilates experience demonstrate the principles in real time
Learn how each principle works together to culminate in a flowing movement practice
Concepts & Techniques
Discuss the Pilates principles in a unique way
Embodied movement and why it is an important approach
Alternative words offered for some of the principles in an effort to implement them more accessibly into a session
Workshop Level
Advanced
Beginner
Intermediate
Duration & Access
This workshop is approximately 2.75 hours long and you have 30 days of access.
Forever Access members will have access for as long as their subscription is active.
(No expiration for Forever Access Members)
About Randi Moore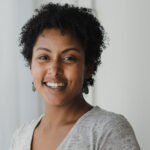 Randi (she/her/they) teaches movement because she's come to know, deeply and personally, it's power to change and heal. She has experienced how her movement practice has facilitated deeper connect...
Find Out More
Other Workshops by Randi Moore
Feedback on Pilates Principles through an Embodied Lens by Randi Moore
This workshop is new, feedback coming soon...
Featured Student Feedback
Cara C
Thank you so much!
Sarah W
Good principles on centering
Tami T
Great Info! Thank you!